Jack Services
5155 Round Mountain Road, Belgrade, MT 59714
(406) 388-7463 or (406) 581-7443

info@djbarranch.com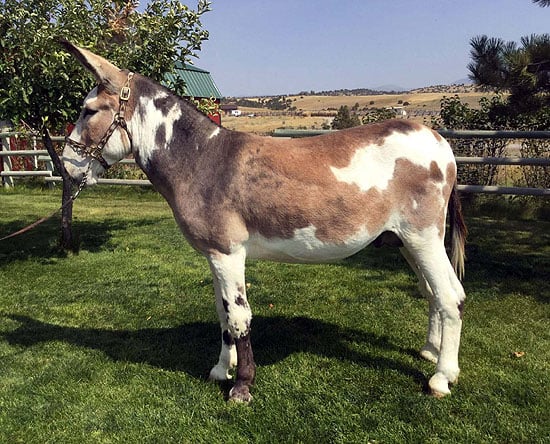 "Boise"
Mammoth Spotted Jack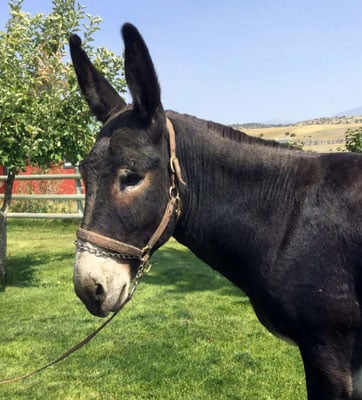 "Ozzie"
Ozzie has been sold and is now in Lynden WA 360-305-2831. But I do have frozen semen available.
Maxamillian breeding days are about over due to arthritis in his hips. I have hopes to get 6 jennies bred to Max to carry the Black Bart line on. We will also be bringing in two nice jacks for breeding until we can raise up our own. Ozzie was on the show circuit the year after Max was showing and won halter classes at Bishop Mule Days and Hells Canyon Mule Days. He is about 15.1 hands tall and will be on the ranch in May. His stud fee will be $500. I will also be bringing home a young spotted smaller mammoth jack. He has not bred mares but hope to be getting them both going on the phantom.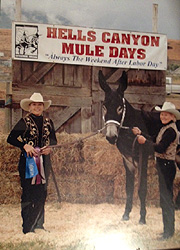 Windy Ridge Maxamillian
ADMA A-11923 & CDMA reg. # CDJA- 3317
Black Mammoth Jack, born June 2, 2000
56 Inches

Max has gone on to greener pastures, but hoping he got one of the Jennys bred, will be looking for those babies in August 2017.
Sire: Black Bart, 56" black Mammoth. ADR. #A 1487/ CDMA #C-CDJA-1400
(deceased March 27, 2003)
Bart was sired by Siemon's Glen, SJJR 37550, six time USA National
Halter Champion Mammoth and out of Wild Black Missouri, **SJJR 37677.

Dam: Windy Ridge Millicent, 55 7/8" black/brown Mammoth C-CDJE-1263( a
Siemon's Glen great great granddaughter) who was sired by Windy Ridge
Klondike Mike, 57" black Mammoth.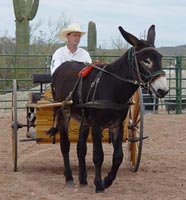 About Bart: Bart was certified 56-inch mammoth under the ADMS Gold Star program. By the time he was 7 years old he had twice earned USA National Grand Champion Halter Jack plus National Grand Champion in Driving and Performance, he has earned both the ADMS versatility Hall of fame award and the merit of breeder award. The later is based on 100 points that must be earned by a registered Jack Registered progeny, donkey or mule, thereby proving his breeding superiority. He participated in driving demonstrations at the Los Angeles Olympics in 1984 and led the ADMS contingent at the Rose Bowl Parade in 1987. He was inspected for CDMA by a equine veterinarian at age 19 and passed with an excellent grade of 90%. For more history and information check out Windy Ridge Donkeys.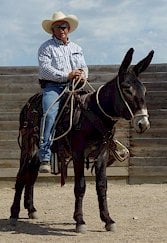 If you are interested in breeding to Windy Ridge Maxamillian this year, he will stand at the
DJ Bar Ranch for a $400 Stud Fee
Shipped Semen Available
Click here for Shipped Semen Contract
Max at the Montana Mule Days
Earning these placings!
Montana Mule Days Awards for Max:
2003, 2004, 2005, 2007 Overall Hi Point Riding Donkey
2003, 2003, 2005 Hi Point Performance Donkey
2004, 2007 Hi Point Gaming Donkey
2003, 2005, 2008 Reserve Gaming Donkey
2005, 2007 Hi Point Youth Riding Donkey
2004 Reserve Hi Point Your Riding Donkey
2008 Reserve Junior Hi Point Riding Donkey
2005 Grand Champion Halter Donkey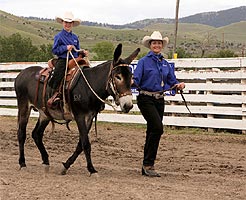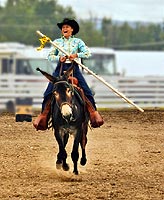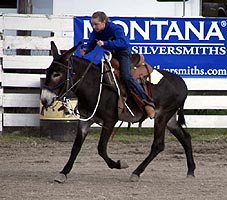 Max was also:
Grand Champion Jack at Drummond
High Point Performance
Reserve High Point Gaming
And overall High Point Donkey
High Point Donkey at Hell's Canyon Mule Days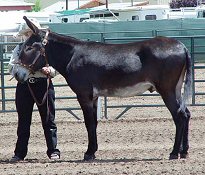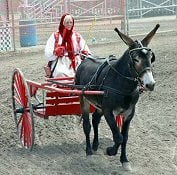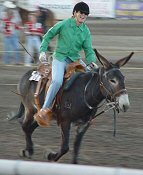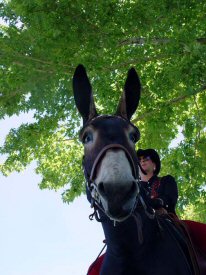 Please contact us for more information. info@djbarranch.com

JEHNET CARLSON
5155 Round Mountain Road, Belgrade, MT 59714
(406) 388-7463
(406) 581-7443 info@djbarranch.com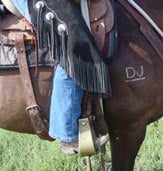 Click here for directions to DJ Bar Ranch
2001-2018 © Copyright DJ Bar Ranch. All rights reserved.
This site is proudly hosted and maintained by
Big Sky Internet Design