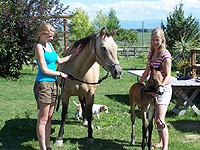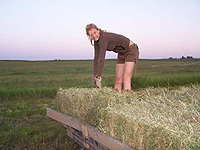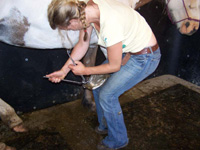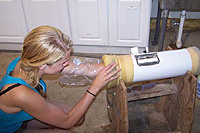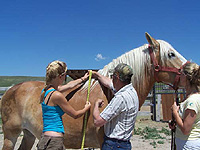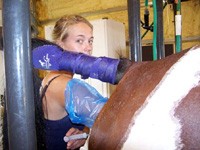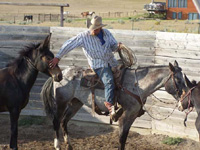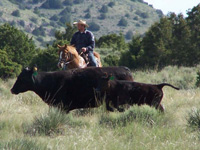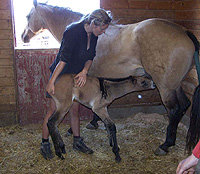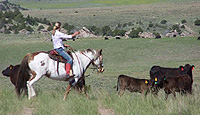 DJ Bar Ranch internship program involves several different possibilities that can include different areas of concentration. This will vary according to the time of year you choose. Areas may include (but are not limited to):
Foaling
Training
Breeding
Hunting
Fall Wrangles
Depending on what you choose the cost could increase to include clinics.
Here are some of the people I work with:
www.jonensign.com Jon start colts and with interest a private clinic can be arranged for students.
* To start mules and colts prior equine expertise is required.
Foaling stalls are equipped with cameras so that I may be present for each foaling to imprint them. If you want to experience the miracle of birth, spring is the best time to visit. A DJ Bar Ranch experience is a hands-on experience and may include collecting semen and artificially inseminating mares. We also ship cooled semen.

The basic fee is $1500 per month to come and stay including room and board. If you desire more information than the web pages provide please contact us. We have the ability to handle up to 7 students at a time in dormitory like conditions. Some meals are prepared or at times students are on there own to fix their own meals with the food that is available. There is always a plentiful supply of wild game meat to eat.
We offer a laid back environment, and you will get as much as you put in, in return from your experience. The fee of $1500 covers food and lodging expenses only. Part of our costs is paid by you helping with daily chores of feeding, cleaning stalls, getting up early in the morning. You will in essence join a Montana ranch family and be expected to participate and clean up after yourselves.


Dear Jehnet,
Thank you for the amazing internship opportunity this past summer. As a pre-vet student with limited equine experience, I learned a lot about what it takes to have, breed, and doctor horses, donkeys, and mules. I absolutely loved being around the horses on pasture. I saw how they naturally behave in the wild and it gave me some insight to how different their lives are when working with humans. Also, it was just my luck that two mares foaled while I was there! I was skeptical of that fact that the foals would become receptive to our presence with them being so fast and evasive, but by the end Eclipse was especially curious about me and they would both approach me for some love and good scratches!

There are so many aspects of the equine world and I appreciate going to the various veterinary clinics and seeing how each veterinarian had their own methods, going to the horse sale in billings, the equine chiropractor, the rodeos (the ranch rodeo was my favorite!), the horse clinic, the saddle and hat makers, the tack shops, going on rides, moving cows, and volunteering with Eagle Mount's equestrian program. I also can't forget to mention the spay and neuter clinic where I got a lot of hands on experience preparing dogs for surgery.

Living on the ranch was a refreshing change of pace from the city life that I am used to, and the unpolluted views were so amazing. The laid back environment was perfect in that we took on whatever came up or was necessary to do that day. Still, the days were packed and it turned out to be a busy summer. I enjoyed every second of it!

Dreaming of Montana,
Diane Kim