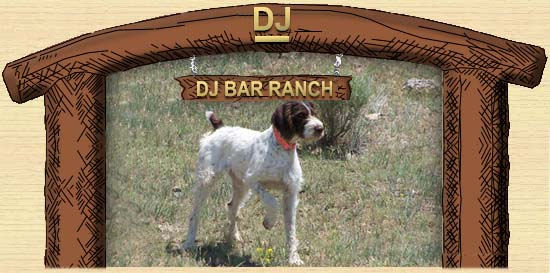 German Wirehaired Pointers
5155 Round Mountain Road, Belgrade, MT 59714
(406) 388-7463 or (406) 581-7443

djbar@littleappletech.com

NEXT PLANNED BREEDING: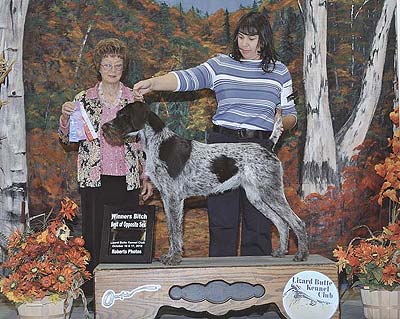 "Snup" & "Priscilla"

"Snup" is an achiever, balanced in intelligence, mental stability and co-operation; he requires challenge. He produces intense, stylish points, reliable soft-mouthed retrieves and consistent honors as well as incredible prey drive in water and field. A proven sire who passes these characteristics to his offspring. He has achieved a New NAVHDA record: Youngest canine to earn VC with maximum score!

Priscilla has now achieved her canine good citizen and junior hunt title with AKC. Her last test she scored 9 on all four areas out of a possibility of ten on each. I look forward to progressing forward in AKC hunt tests with her. She really got into the sharptails on our way home from the German Wirehair Nationals in Ionia MI. Priscilla is also a therapy animal and loves visiting facilities.


When looking for a GWP most breeders have their pups sold before they are ready to go. So if the GWP is the breed you want
I really recommend you pick the breeder you want to work with and put a deposit down early to get the pup you want!
At DJ Bar Ranch our dogs are house dogs and part of the family. They have strong retrieving and water abilities. They have excellent dispositions Lace, and Priscilla are both Therapy dogs with Intermountain Therapy Animals and achieved their canine good citizen award with AKC. All the puppies are well socialized with many kids visiting to play with them. Don't discount their abilities in the field because I show them. To win in the show ring they have to meet the breed standard and move soundly. We are happy to make arrangements to ship puppies, deposits are taken on prospective liters and that is the order they are picked.
Visit our facebook page for up to date information: www.facebook.com/DjBarRanch
DJ Bar Ranch will be hosting Sharptail Chapter training sessions and a snake breaking clinic.
http://www.montanasharptail.com

To learn more about About German Wirehair Pointers visit the AKC breed page
http://www.akc.org/breeds/german_wirehaired_pointer/index.cfm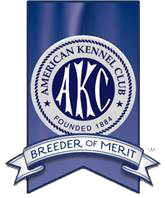 Please do not hesitate to contact us if you have any questions or comments.
We look forward to hearing from you!
djbar@littleappletech.com

JEHNET CARLSON
5155 Round Mountain Road, Belgrade, MT 59714
(406) 388-7463

(406) 581-7443 djbar@littleappletech.com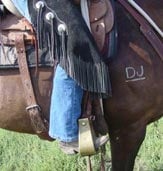 Click here for directions to DJ Bar Ranch
2001-2015 © Copyright DJ Bar Ranch. All rights reserved.
This site is proudly hosted and maintained by
RockinB. Com Web Innovations